Water work flows in as Franklyn Yates Engineering completes multi-million project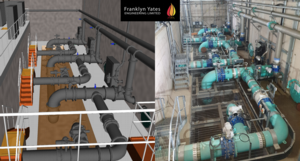 Franklyn Yates Engineering has recently completed a multi-million contract to supply key components to a water treatment works serving 800,000 customers on Tyneside.
Part of the Greenbank Group, Franklyn Yates Engineering Ltd (FYEL) proved itself an important partner in a £46m redevelopment of the facility in Northumbria.
The plant was first commissioned in the 1970s and treats up to 150 million litres of water a day. The site has been undergoing a massive upgrade to increase capacity, meet ever-rising water quality standards and satisfy increasing demand.
Steve Walker, FYEL's Project Manager, said this latest contract further demonstrated the firm's specialist expertise in the clean and waste-water sectors.
"Utilising our manufacturing and assembly facilities in Deeside, North Wales we worked closely with various strategic alliance partners as part of a wider £36.8 million contract with the water company.
"Our role involved the design, manufacture and installation of specialist pipework, flow control equipment and chemical dosing systems, as well as water purification systems other associated equipment.
"This comes soon after our completion of a circa £600,000 contract for improvements to a water treatment works in Shropshire, which serves more than a million households and commercial properties in Liverpool and parts of Cheshire."
The new plant in Northumbria is been constructed alongside the existing plant, which will be demolished once its replacement is commissioned – due in May 2021.
Flows of 106-150 megalitres per day are expected when all process units are in operation.
END