VARB® and Control-Gates® Destined for India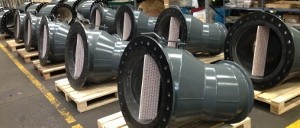 The picture shows Greenbank's VARB® and Control-Gate® technology completed and ready for packing prior to being shipped out to India.
The system will provide improved and guaranteed distribution of pulverised fuel to 24 burners for a combustion upgrade project on a large coal fired electricity generating boiler.
Not only will the system help improve combustion, increase efficiency and reduce unburned carbon-in-ash, it will improve flame stability, reduce the need for supplementary fuel at low load, plus help reduce NOx and CO by improving the fuel mixture and flame temperature.
The Control-Gates® include Greenbank's new 'Aerotech' vacuum bonding lining system and the VARB's are lined with Zalcon and Cast Basalt to give extended life and performance in an arduous operating environment.
Bon Voyage..