Seven 'Golds' in a row for Greenbank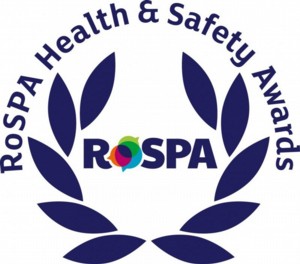 Derbyshire specialist engineering company, the Greenbank Group, is set to receive a prestigious award for the SEVENTH year in a row in recognition of its commitment to health and safety.
The internationally renowned company will be presented with the Royal Society for the Prevention of Accidents (RoSPA) Gold Medal at a special ceremony in July.
RoSPA has again been impressed with Greenbank's policies to ensure the safety of employees as it cements its place as a global leader in its field.
The Woodville-based Greenbank Group is a specialist in the design, manufacture and installation of bulk handling systems for industries such as power generation and mining, as well as supporting companies involved in the manufacture of steel, paper and glass. Its diverse range of fabrication and R&D services is also helping it to service a broad client base in markets across the globe.
As the company diversifies, Managing Director Charles Conroy says this seventh award emphasises Greenbank's policy of putting staff first.
"We have a long-term commitment to our employees and health and safety is at the heart of the support," he explains. "Any good employer understands its staff are its biggest asset. We at Greenbank hold our staff's wellbeing as a core ethos of our expanding and successful business.
"Every RoSPA award we win spurs us on to take our standards higher and higher. We are hugely proud of our record and it is one we will strive always to continue.
"This latest Gold Medal is the embodiment of values of excellence that run throughout the business."
Greenbank will be handed their latest medal during a ceremony at Hilton Birmingham Metropole Hotel on Wednesday, July 4.
For more than six decades, the RoSPA Health and Safety Awards, the longest-running industry awards scheme in the UK, open to public and private sector organisations of all types and sizes from across Britain and overseas have celebrated the achievements of businesses and other organisations that have shown commitment to accident and ill-health prevention.
Judges consider entrants' overarching occupational health and safety management systems, including practices such as leadership and workforce involvement.
Julia Small, RoSPA's head of qualifications, awards and events, said: "The RoSPA Awards are the most highly-respected in the health and safety arena, with almost 2,000 entrants every year, and allow organisations to prove excellence in the workplace, demonstrating a commitment to the wellbeing of not only employees but all those who interact with it."