Renault Racer Randon Supporting 'Pride of Britain ' Award Winner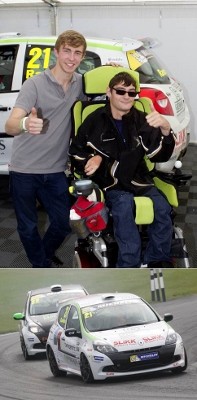 South Derbyshire charity Me&Dee, whose founder Maria Hanson was recently named the East Midlands region winner of the national 'Pride of Britain' Awards, has partnered with Michelin Clio Cup Race Series podium finisher Sam Randon to help provide memorable trackside experiences for people with life-threatening and life-changing conditions.
On Saturday, 11th October, the 19-year-old Ashbourne racer attended the Me&Dee fundraising ball at Burton Albion Football Club where a pair of VIP tickets for a round of next year's Michelin Clio Cup Race Series were auctioned and raised more than £200 for the charity.
"We will have to ensure the winners enjoy their weekend with us", commented Race Series front-runner Randon, "The bidding was fast and furious, we seemed to be a popular item in the auction. The winners were very generous."
Swadlincote engineering firm Greenbank, Randon's 2014 headline sponsor, has adopted Me&Dee as its charity of the year and the fundraising auction followed hot on the heels of Randon and Greenbank helping to provide 17-year Jack Tissington with a memorable day out at Snetterton in August.
At a special dinner in the summer to mark Greenbank's 60th anniversary, Maria Hanson won tickets to the penultimate event of the 2014 Michelin Clio Cup Race Series season and immediately put forward Jack's name to receive the hospitality passes.
The youngster, who has cerebral palsy, enjoyed an outstanding day in the company of Randon and the 20Ten Racing team. Championship promoter Simon North donated more tickets to enable the whole family to attend, in addition to an official Renaultsport jacket for Jack courtesy of Renault UK and Grovewood Sport.
"We were all treated like royalty", reflected mother, Lesley Tissington on the Snetterton day out, "As Jack is having multiple health issues at present, it was nice to put the everyday stresses, strains and worries to the backs of our minds. Every single person treated Jack as an individual young man, not as someone disabled in a wheelchair."
At last weekend's Me&Dee charity ball, the Tissington family's bid failed to win the auction for the 2015 tickets so Randon – who is plotting a title challenge in the Michelin Clio Cup Race Series next year – and Greenbank Group Managing Director Charles Conroy agreed to provide another VIP day out for Jack at one of next season's events.
Maria Hanson, who herself has a disability, was awarded the East Midlands region accolade at the Daily Mirror and ITV supported 'Pride of Britain' event on Monday, 6th October, in central London in recognition of the incredible work her charity does.
Based in Melbourne, near Donington Park, Me&Dee is one of the East Midlands' most hard-working charities and helps to provide more than 200 special moments a year for those with life-threatening conditions and illnesses.
Along with headline sponsors Michelin and Protyre, the Clio Cup Series is additionally supported by Ferodo and Safety Devices.