Player Awards at Derby County Football Club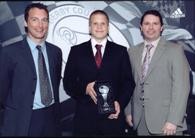 Greenbank, who are secondary shirt sponsors of Derby County Football Club, were invited to present the 'Scholar of the Year' title at this years End of Season Player Awards which took place at Pride Park last night.
The winner, Henrik Ojamaa, was born in Tallin, Estonia in 1991. He is a second year scolar at Derby County's Moore Farm Academy and is a promising young striker.
Charles Conroy, on behalf of the Greenbank Group, presented the trophy together with Darren Wassell.
Darren has just been appointed to the Academy coaching staff, but previously played 122 games for the Rams and was part of the 1995-1996 promotion winning side, led by Jim Smith, which put the Rams back in the Premiership. He was also a team mate of Nigel Clough at Forest before signing for Derby in 1992.