'Play on the Pitch Day' Helps Local Twins' Charity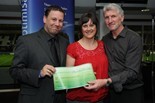 Pride Park Stadium in Derby played host to a 'Play on the Pitch Day' on Friday, 7th May, organised by Derby County FC sponsor The Greenbank Group, raising £1200 for local charity fund, 'Twins with SMA'.
The competition saw Greenbank and the Ex Rams team take to the pitch along with customers and industry partners Alstom, Clyde Bergemann Materials Handling, Cemex, Cleveland Potash, Doosan Babcock Energy, Norec, Ratcliffe Power Station, Rugeley Power Station, Tarmac, and UK Coal.
Despite rather chilly weather conditions, Ratcliffe Power Station put on an 'electric' display throughout the day, ultimately beating Cleveland Potash in a penalty shoot out to lift the winner's trophy.
After the tournament, former Wales defender and Liverpool FC legend, Joey Jones thoroughly entertained the teams and their guests with colourful tales of his iconic career in football when he took to the stage as guest speaker at the event's dinner and awards ceremony.
A raffle held during the evening on behalf of local twins Sam and Alex Bolton, who suffer from Spinal Muscular Atrophy (SMA), raised £1200 for their charity trust fund 'Twins with SMA'. The twins really enjoyed watching some of the day's matches, along with parents Sarah and Ian who were later presented with a cheque by former Derby County star, Roger Davies.
"We've had a brilliant time and would like to thank everyone at Greenbank for organising an event that has contributed such a fantastic amount to Sam and Alex's fund", said mum Sarah.
"It's been a great day, and it's even more rewarding to know that, thanks to everyone's generosity, we're also helping Sam and Alex, two truly amazing little boys. A big thank you on behalf of the Greenbank Group to all who took part and made the event such a success", said Charles Conroy, Greenbank's Managing Director.