Partnership to highlight benefits of basalt tiles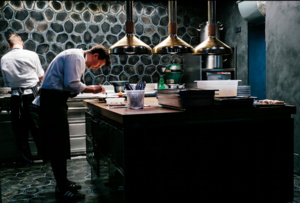 Visitors to the UK's premier flooring exhibition will again have the opportunity to discover for themselves the unique properties of volcanic basalt tiles.
For the Surface Design Show (February 6 – 8) at the London Design Centre in Islington, the Greenbank Group has again joined forces with the Ethical Stone Company to highlight the benefits of the unique natural floor covering.
A selection of Greenbank's Volceram tile range, which is forged in the heart of volcanoes, will be on display at the Ethical Stone showroom in the Stone Library, located close to the entrance of the show.
Ray Moorehead, Sales and Marketing Director at Greenbank, explained: "Last year leading architects, designers and specifiers were amongst the many visitors to our Volceram display and witnessed tests that highlighted the abrasion resistance properties as well as their anti-slip properties.
"We're delighted to once again join up with Simon Goude and his team at The Ethical Stone Company to welcome visitors to the Stone Library during this year's show."
As well as being incredibly tough, basalt is also non-porous, which makes it easy to clean and unwanted spillages or other surface liquids can easily be drained away, making it ideal for both commercial and industrial environments.
An added bonus comes from the dramatic appearance of the tiles, which have been used to eye-catching effect in upmarket bars and restaurants.
The Ethical Stone Company director, Simon Goude, added: "We've built our business around innovative and interesting products. As well as being exceptionally hard wearing and stain proof, Volceram cast basalt tiles also have a story to tell; the idea that basalt stone can be melted back to its original molten lava state and then poured and cast into moulds marks the product out as totally unique and exciting.
"Whenever we host a natural stone CPD workshop with architects, it is always the cast basalt bricks that get the biggest oooh!"
Volceram tiles are pictured here on the floor and wall of an upmarket European restaurant.