New VARB® & Control-Gate® PF Distribution System Brochure Released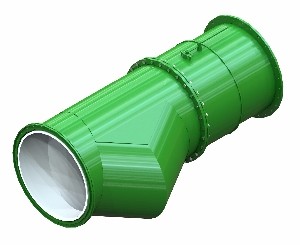 Power plant operators are faced with increasing pressure to improve the efficiency and reduce emissions from their boilers.
Recently, this has become additionally complicated due to the burning of biomass fuels as well as coal in the same boilers.
Greenbank Terotech Ltd, in partnership with GAIM (Greenbank Advanced Instrumentation and Measurement Ltd), offer a revolutionary non-intrusive rope breaker for Pulverised Fuel (PF) with the unique family of VARB® PF diffusing systems.
As pulverised fuel is conveyed from the mill classifier to the boiler burners through the supply pipework by the primary air, a roping effect can occur within the flow of material being transferred. This disrupts the balance and efficiency of distribution of the fuel as it reaches the burners.
The purpose of the VARB® (Variable Area Rope Breaker) is to break the PF rope and allow the fuel to flow evenly to each burner.
In particular, where the pipes split into one or more branches, uneven distribution often leads to poor fuel to air ratio, combustion inefficiencies and accelerated erosion.
The Greenbank patented VARB® PF diffusing system together with Greenbank Control-Gate® technology will diffuse the rope then control, balance and trim the air/fuel ratio to the desired distribution down each pipe leg.
Being non-intrusive and having as pressure drop around 10x less than an equivalent Riffle, the VARB® system also yields improvements to the plants Primary or Transport Air system.