Joint venture capabilities in conference spotlight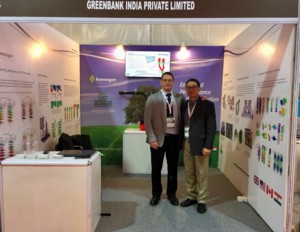 A conference for operators of power stations in India has provided the perfect platform for Greenbank to showcase the capabilities of its latest joint venture, Ammegen.
Organised by state operator NTPC the Indian Power Stations conference and exhibition in New Delhi brought together experts from across the sector to discuss the reduction of NOx.
Delegates heard that the compliance deadline for NOx emissions in India, which had initially been set for December 2017, has been pushed back until the end of 2022.
The move has sparked a fresh round of studies and trials, and Ammegen is ideally placed to lead the research in partnership with coal-fired power station operators.
Charles Conroy, Greenbank Managing Director explained: "During the conference there was a lot of interest shown in Ammegen's broad range of NOx abatement capabilities alongside Greenbank India's ability to support Ammegen with local supply of hardware.
"We have been invited to visit a number of Indian power stations to demonstrate how we can help improve fuel distribution systems and design boiler upgrades that reduce emissions whilst improving efficiency rather than sacrificing it."
In addition to its Computational Fluid Dynamics (CFD) modelling capability, the Ammegen team can boast experience in developing over 90 combustion models on a wide variety of boiler configurations and fuel diets.
"As a result we're in a unique position of being able to offer a 'one-stop-shop' solution for operators looking to optimise fuel delivery and enhance boiler performance under variable load conditions," Charles explained.
A transatlantic partnership between the UK-based Greenbank Group, Nitec Energy Services in Canada and US Reaction Analytic Solutions Corp, Ammegen also utilises both pre- and post-combustion technologies and state-of-the-art measurement and monitoring systems to reduce NOx, CO and SO2 emissions.
"India represents a key market for us and through our Kolkata office we will be aiming to strengthen our presence in one of the world's fastest growing economies that's demonstrating a clear commitment to cleaner coal technology," Charles added.