Hillhead is Hot Hot Hot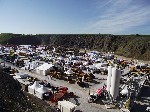 It's the hottest week of the year, and as the temperatures soar in the aptly named Bakewell, so too do the enquiries for Greenbank at Hillhead, the world's biggest working exhibition of quarrying and recycling equipment.
Only one day into the show and the Greenbank team had already taken two pipe conveyors enquiries, two belt weigher enquiries and an enquiry for lined pipework.
The golf simulator on the Greenbank stand has attracted a lot of attention from visitors wishing to let off steam and practise their swing, and has to date raised £140 for three leading national charities – Help our Heroes, Cancer Relief and NSPCC.
A string of scorching sales leads, a lot of red faces from over exposure to the sun, the footy on telly and £4.90 for a sandwich – Hillhead has proving a hotbed of activity in more ways than one.