Greenbank's Ride on Apache Rapids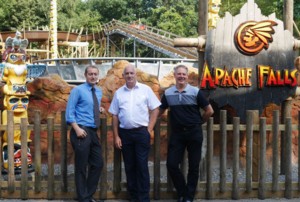 Thousands of thrill-seekers at a popular theme park have been braving white water rapids after staff at a Nottinghamshire engineering plant played a key role in building the ride.
The Greenbank Group's manufacturing base in Creswell, near Worksop, was involved in the development of the Apache Rapids attraction at Gulliver's World, in Cheshire.
It provided fabricated steel channels for a 35m-long elevator that rises to an 8m height.
The project marked a departure from the company's usual work in the UK's heavy process industries, such as power plants and steel, cement and mineral aggregates.
Nick Phillips, company director of Gulliver's Theme Parks, which owns the attraction, said: "Constructing a new ride is a challenging task that not only demands technical expertise but also a great deal of patience and resilience.
"Greenbank's flexibility and efficiency has made it a pleasure to work with on this exciting project and we hope to be working with the company again in the future." Greenbank Group, which has its headquarters in Woodville, near Swadlincote, acquired Hargreaves Industrial Services manufacturing facility in Creswell in 2014 to add more engineering capacity and broaden its customer base.
The company employs 80 staff overall, including 14 in Creswell, and has a turnover of more than £8m. In total, staff at the Creswell plant manufactured about 150m of the main channel for the theme park ride.
Managing director Charles Conroy said the contract demonstrated the company's ability to turn its expertise to a wide range of engineering and fabrication challenges. He said: "Greenbank has an established reputation, both at home and overseas, in the supply and installation of industrial pipework, bulk handling systems and a wide range of other products but helping theme park visitors to enjoy an adrenaline-fuelled white water rafting experience is certainly a first for us.
"Both our manufacturing facilities, in Creswell and Woodville, have the tools and expertise to provide bespoke engineering solutions for a growing number of industries, and we will continue to seek out new opportunities.
"In the meantime we are delighted the new ride at Gulliver's World has been so well-received and look forward to working with the operators as they develop even more crowd-pleasers at their theme parks."
Pictured in front of the new Apache Falls ride at Gulliver's World are (left to right) Nick Phillips, Gulliver's Theme Parks company director, and Steve Elliott and Darren Parkin, of Greenbank Group