Greenbank's Play-on-the-Pitch Day a Great Success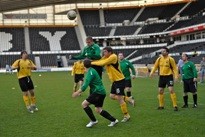 The sunshine and a glittering display of footy talent set Derby's Pride Park stadium alight on Friday 8th May, at the Greenbank Groups 'Play on the Pitch Day' tournament.
The 12 competing teams made up of Greenbank's customers and energy industry partners, put on a skilled and energetic performance, with more than a hint of healthy competition and a huge dose of fun.
The teams included sides from Cemex, Norec, Rugely, UK Coal, Alstom, Ratcliffe Power Station, Clyde Bergemann, DCFC Sponsors as well as the Ex Rams and two Greenbank sides.
The team from Cemex in Rugby were the ultimate tournament champions, winning the final against the Ex Rams. This followed a Cemex win against Norec and a win for the Ex Rams against DCFC Sponsors in the semi finals, the latter, a fiercely fought contest, was eventually decided on penalties.
Ian MacGregor from Cemex was voted Player of the Tournament, and the Goal of the Tournament was scored by Greenbank's own Richard Jarvis.
The day was rounded off with dinner and an awards ceremony, when the teams were treated to a string of witty anecdotes from the inimitable Frank Worthington.
Frank shared his career highlights including winning eight caps for England in 1974 and scoring his legendary greatest goal in English football against Ipswich Town. Frank's repartee about his on and off pitch life and wilder times in the world of professional football raised more than a few chuckles from the audience.
Derby County Disabled Supporters Club also benefited from the event, and Tim Rees, accepted a cheque for over £680, which will help the organisation improve accessibility to games for disabled Derby County supporters. Tim quoted "As far as I'm aware this is the biggest single donation we have ever received, so big big thanks to Greenbank UK."
Thanks goes out to Peter Cobham, Sally Hall and Kimberley Warrington whose organisations skills made the day a outstanding success.
-ENDS-