Greenbank Wins Regional Employer of the Year Award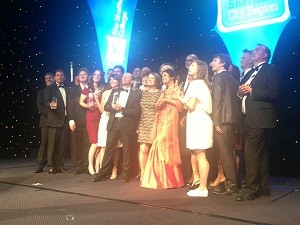 Greenbank have been honoured with the South Yorkshire and East Midland regional title of 'Employer of the Year 2013' at a spectacular event held at Ponds Forge Sports Arena in Sheffield.
The event pitched four regional Chamber of Commerce winners plus one Sheffield City region winner against each other in a best-of-the-best shoot-off for 13 individual titles which covered 55,000 companies operating in the vast regional area.
Greenbank were short listed for three of the titles which included Design and Innovation, Export and Employer of the year.
The event, attended by 600 people, was hosted by BBC Look North presenter Claire Frisby and featured key speaker Sir Howard Davies, the former Deputy Governor of the Bank of England, Director General of the CBI and Director of the London School of Economics.
On presenting the prize to Greenbank's Charles Conroy, Martin Killbery, Craig Lawson and Steve Whitby, Clare stated that 'Greenbank's entry had been 'head and shoulders above the competition' and asked 'how did we achieve it?'
MD Charles Conroy, upon accepting the award stated, 'one of the targets within our business plan is to ensure we communicate with, listen to and react to the needs of our people with the intention of making Greenbank a better place to work'
Thanks for this award go out to all our employees and in particular the HR team including Martin Killbery and Eleanor Mason.