Greenbank strengthens links with rail sector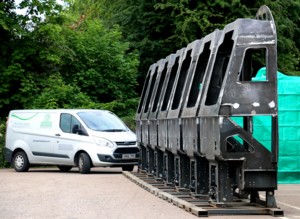 Specialist engineering firm, the Greenbank Group, is consolidating its position as a key supplier to the rail sector by joining an influential trade body.
The Derbyshire-based firm has become a member of the Rail Alliance, the largest business-to-business rail community in the UK.
The move follows Greenbank's diversification into a sector with huge potential for British manufacturers, thanks to ongoing investment in infrastructure and rolling stock.
Charles Conroy, Greenbank Managing Director, explained: "Through the coronavirus pandemic our Woodville manufacturing facility has continued work to fulfil a multi-million-pound contract to build cab assemblies for a new fleet of trains.
"The result of a collaboration with Derby-based Datum Pattern & Model Makers Limited and Bombardier Transportation, the order for 170 assemblies for trains destined for South Western Railway represents a new direction for the company.
"Over six decades, Greenbank has successfully delivered high-quality, bespoke engineering services to a broad cross-section of industries, particularly power generation, but diversification has become increasingly important as our traditional markets evolve.
"By joining the Rail Alliance, we aim to build on the relationships we've already forged with established suppliers and manufacturers, particularly in Derbyshire and the wider region which has such a proud railway heritage."
Spanning the entire supply chain, the Rail Alliance acts as a valuable resource for UK rail businesses, providing a number of high-quality business-focused benefits – from networking opportunities and market intelligence to raising the profile of companies and sharing best practice. Integrated as part of the Birmingham Centre for Railway Research and Education, it also provides access to business advice specific to rail or international programmes.
"These are exciting times for Greenbank as we start a new chapter in our history, and we look forward to working with other members of the Alliance as we bring our reputation for exceptional engineering excellence and innovation to the rail sector reputation for engineering excellence," Mr Conroy added.