Greenbank Sponsor Prestigious Innovation Award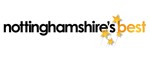 Greenbank are proud to announce their sponsorship of the Award for Innovation at this year's Business Awards Nottinghamshire.
The Derbyshire and Nottinghamshire Chamber of Commerce organise the awards which encourage business excellence and recognise businesses that have pioneered new concepts and innovation.
Entries are expected to come from all corners of the region and a number of different business sectors will be represented by companies of varying size.
The Business Awards Nottinghamshire is undoubtedly one of the top events in the business calendar, and the Award for Innovation is one of the most prestigious of its kind. The event will attract an exceptional level of media attention with extensive coverage in the Nottingham Post and In Business Magazine.
Steve Charles, Director of Business Services at Derbyshire and Nottinghamshire Chamber of Commerce said:
"Derbyshire and Nottinghamshire Chamber are delighted to have Greenbank on board as sponsors of the 2011 Innovation Through Technology Award for the Business Awards Nottinghamshire. Greenbank have a history of being innovators and, as an organisation with a fine track record of success in business awards, they will bring a vast amount of knowledge and experience to this category. The team and I are looking forward to working with them."
Charles Conroy, Greenbank Group UK Managing Director believes that the kudos gained from sponsoring the award will take Greenbank to another level in its ongoing efforts to be an innovative business. Charles stated:
"The Greenbank business has seen significant development over the last few years and we have become leaders of our field in many areas. Being accepted as sponsors in this showcase of regional talent is very much the icing on the cake for us and a reward for the innovative path our business has taken over recent years"
"The Directors and employees at Greenbank are proud to be involved with these prestigious awards and we are looking forward to working closely with the DNCC."