Greenbank Sponsor Nottinghamshire and Leicestershire 2015 Business Awards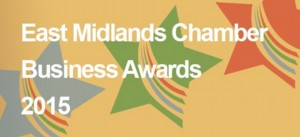 Greenbank are proud to sponsor the Excellence in Innovation category in both the Nottinghamshire and Leicestershire Chamber of Commerce 2015 Business Awards.
It will be the fifth successive year the Company has sponsored the Nottinghamshire award and it will be the inaugural event and category for the Leicestershire Chamber. The 'Excellence in Innovation' category showcases the commitment and quality of, smart and talented, businesses found here in the East Midlands - whether new or old, large or small.
Charles Conroy, Greenbank's Managing Director stated: "Greenbank have benefited enormously from home grown innovation. By sponsoring this award we aim to encourage and recognise, the innovation and talent demonstrated by the applicants and finalists in this category. "As sponsors, it is always exciting to see such diversity, and how local companies innovate to address their own business needs."
Closing date for our #ChamberAwards is 26 June. Enter your business into any of the 10 categories. Applying is easy - http://ow.ly/O0CCP