Greenbank Sponsor Burton Mail 'Manufacturer of the Year' Award 2016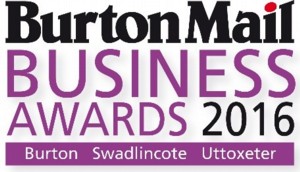 Greenbank, for the second consecutive year, were proud sponsors of the Burton Mail 'Manufacturer of the Year' award.
Manufacturing has been the core activity of Greenbank for over 60 years, so in sponsoring this category we were able to visit and learn from successful businesses, seeing the way they tackle their problems, issues and challenges – seeing how they address their growth and development.
At Greenbank, we understand the difficulties involved in manufacturing and production. Difficulties which include maintaining an up-to-date production process that comes with all the ongoing problems and associated costs. Difficulties in satisfying ever increasing health, safety, environmental and employment legislation. Difficulties in addressing ever-changing market conditions and the threat from imports - especially where legislation isn't always as 'well respected' overseas as it is here!
The finalists were Aqua Narrowboats, Hi-Tech Fabrications and Russell Roof Tiles.
It was tough deciding upon a winner. In our judging committees eyes each of the finalists won in different ways. We saw love and passion for the business, we saw quality and control, we saw investment, development and growth. On all counts we saw dedication and commitment.
Putting everything together, from 3 completely diverse businesses, we had to make a good case for why we would choose one from another. The business we chose excelled in every way. Quality and control was at the heart of the operation. Clean, tidy, organised, well-managed - having a secured a sustainable and long-term customer base. The business had bespoke manufacturing processes developed to suit their customers' needs - sitting side by side with research and development projects intended to give their customers and stakeholders more value from the products they produced. The management team had great passion for the business, the products and their roles.
There were three great finalists, it was unbelievably close, but there can be only one winner. and the winner was Hi-Tech Fabrications. Congratulations from Greenbank to all concerned.