Greenbank Sets Safety Standard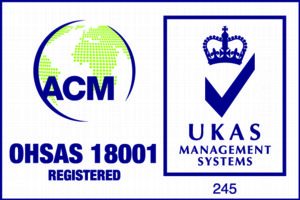 We are proud to announce the Greenbank Group, has been recognised for its commitment to ensuring a safer working environment.
The Greenbank Group, based in Woodville, and Greenbank Engineering Services, based in Creswell have both achieved OHSAS 18001:2007, the international standard for Occupational Health and Safety Management Systems, following an independent assessment of its operations, processes and procedures.
Group Managing Director, Charles Conroy, commented: "Achieving OHSAS 18001 is a major milestone in our overall business plan and something we are very proud of.
"The safety of our employees, stakeholders and visitors is paramount to maintaining a successful business. It is vital we ensure everyone works in a safe environment, and we take this very seriously as we strive to ensure that our good working practices are adhered to by all.
As an ISO accredited company, Greenbank has put procedures in place for all aspects of its business, and the latest standard supplements its ISO 9001 (Quality Management) and ISO 14001 (Environmental Management) certification.
These help contribute to both the high levels of quality and service it delivers, whilst helping to maintain the firm's exemplary health and safety record.
"Achieving this certification captures Greenbank's core values of safety, excellence, respect and commitment which are embedded within every aspect of our business," Charles said.
"Greenbank is fully committed to quality, environmental performance, safety and continual improvement of its products and services. These certifications recognise our commitment to an integrated management system for our employees, stakeholders, suppliers and customers."
OHSAS 18001:2007 certification is the latest in a series of achievements by the company in relation to its commitment to safety, quality and staff development. Earlier this year it scooped two gold awards recognising the company's outstanding commitment to employees.
Greenbank has been awarded Gold status from Investors In People (IIP), putting the company in the top three per cent of world-class businesses in terms of developing its staff.
End