Greenbank set standard for new car testing facility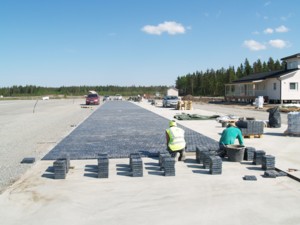 A Derbyshire-based engineering company has secured a high value contract to supply specialist automotive skid pan tiles that will help police in India hone their driving skills.
The Greenbank Group has already enjoyed global success with its basalt tiles that are now used on a number of 'top secret' test tracks across Europe, the Americas, Asia and the Far East.
In addition to playing an important role in the development of the next generation of cars from the world's top manufacturers the unique properties of the tiles make them ideal for testing the skills of drivers on wet surfaces.
The tiles were originally developed for use in materials-handling systems and pipework, taking advantage of volcanic basalt's natural resistance to abrasion.
Greenbank, more usually associated with its work with the power generation sector and other heavy industries, identified a wide range of alternative applications for the versatile material and has become a market leader in the supply and installation of basalt tiles for automotive proving grounds.
Ray Moorehead, the company's Sales and Marketing Director, explained: "Proving grounds are used to test vehicle braking capabilities, and the beauty of our tile design was its ability to mimic wet road conditions when testing the handling capabilities of vehicles at safer and much slower speeds.
"Wherever they are installed, in whatever climatic conditions, the basalt tiles retain their natural characteristics so that the results from a car being tested on a wet skid pan in July in the heat of the Nevada desert can be compared to one being tested on a proving ground on the outskirts of Stockholm in December!"
Since these unique properties were first developed to be utilised in the motor industry with the then UK Government owned MIRA, Greenbank has worked closely with many of the world's leading carmakers, testing authorities in the UK as well as foreign government agencies.
Ray added: "Due to the tight security that surrounds the development of new models, it's not possible to give too much detail on where we've installed the tiles. But it's fair to say that most of the cars we drive today – and future vehicles – will have, at some point, been tested on tracks and skid pans that make the most of Greenbank's expertise in finding innovative uses for basalt, one of nature's most durable materials."
The latest order from a major civil construction firm will see 600sq meters of basalt tiles installed on a facility operated by an Indian police authority. Although exact details of the contract remain confidential, the total order is worth a significant six figure-sum to Greenbank.