Greenbank Recognised for Environmental Achievements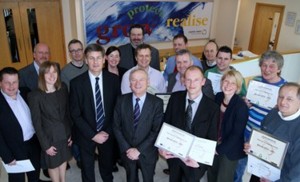 The Greenbank Group are pleased to announce that they have been presented with two awards at the prestigious RNC for Derbyshire sponsored by Cooper Parry and Business Link.
The RNC is a partnership part financed by Groundwork Derbyshire and the European Regional Development Fund and provides a forum for businesses such as Greenbank to meet and share environmental ideas and initiatives.
Greenbank were announced as winners of the category for Scope 2 Greenhouse Emission Reductions, primarily relating to efforts made to reduce electrical consumption at its Woodville site.
In addition Greenbank were presented with an outstanding commitment award for its continued support for the group and narrowly missed out on the award for Overall Business of the Year for CO2 reduction, a category Greenbank had previously been victorious in during 2009 and 2010.
Wayne Darwin and Terry Walton were on hand to collect the awards presented by Robert Kirkland from the Bowmer & Kirkland Group.
Greenbank will be targeting further success in the years to come and fully recognises the part such groups can have in bringing about change and efficiency in industry and for the environment.