Greenbank Race Day – Another Winner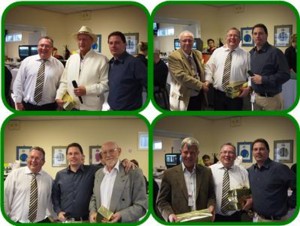 Sunday 7th October. Greenbank hosted a race day for 68 employees and some very special guests on a rare and beautiful sunny afternoon at Uttoxeter Races. The day celebrated the achievements of the year and also winning 3 major titles at the local chamber of commerce business awards.
The day got 'under starters orders' from celebrity tipster Charles Lawson, AKA Jim MacDonald of Coronation Street fame, who entertained the crowd with, what turned out to be, funny but terrible advice - so he did!
The special guests honoured were 'the old guard' and earlier custodians of Greenbank's long and wonderful heritage.
After approaching 20 years outside of the business the old Directors of Greenbank Terotech came together as one to enjoy the day with the current team and went on to enjoy a tour of the facilities at Woodville the following day.
Ex Director's Tom Ellis (MD), Jack Adamson (Site/Sales), John Taylor (Engineering) and Vincent Cronshaw (Production) came from far afield together with their wives, Bernadette, Sue, Jean and Brenda. Bernadette and Brenda also being previous long standing employees of Greenbank from the days up in Lancashire.
Current MD Charles Conroy spoke at the event. Introducing, welcoming and paying homage to 'the old guard,' he stated, "it was a proud moment to be in their presence and it was a wonderful privilege being able to bring them all back together after such a long time and for such a great moment in Greenbank's history."
Safe to say Bernadette and Brenda took full advantage of their time in the Midlands by helping retrain the locals to 'speyk proper' (speak properly)!
Classic Lancashire phrases like; 'Wer-ti-Gewin' (where are you going), 'Saw-reet-fer-thee' (it is all right for you), 'Put-t'woodin th'ole' (close the door),' Snorawlus-reet' (he is not always right). 'Howdonabit owdlad' (slow down a bit Mr). 'Wossupwithi' (what is wrong with you) and 'Ah cud eyt a buttered frog' (I'm hungry) were swiftly introduced in to the local dialect.
Bernadette also treated us to a little Spanish whilst she was 'ere ….. 'Moo-choe Goose-toe En-can-tardoe' (which is pleased to meet you in Span-lancs), 'Noe Compre-henoe' (which means I don't understand you) and 'Me Aeroe-dez-liz-a-door Ester Lenoe de An-goolie-ass' (which means my hovercraft is full of eels!)….. Safe journey home Detty!
Nothing here at Woodville will ever be the same again ….. ;)
Needless to say - Enormous fun was had by all.