Greenbank Presented with Regional Environmental Award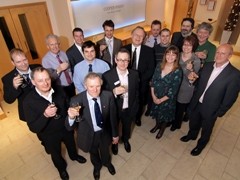 The Greenbank Group is pleased to announce the business has been presented with the prestigious award for 2008-09 for the Derbyshire business with greatest reduction in CO2 emissions.
The award from the Resource Navigator Club which is presented by Cooper Parry and supported by Business Link, South Derbyshire District Council and Envirowise recognises the achievements made by the Greenbank Group during the period and also efforts made to reduce its carbon footprint and also improve environmental performance.
Greenbank have been active members of the RNC that has been supported by government funding and will continue to be actively involved.
The award was presented to Greenbank representatives by MP for South Derbyshire, Mark Todd.
Credit and thanks goes out to Terry Walton and Wayne Darwin for the commitment they have shown to this project which supports evidence of Greenbank's unique cooperative effort between its workforce and senior management.