Greenbank invests in new laser-cutting equipment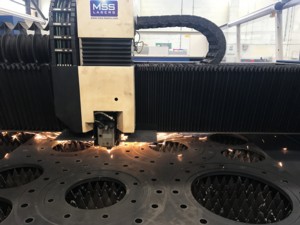 A £175,000 investment in powerful laser-cutting equipment is set to boost production at the manufacturing base of a leading engineering firm.
The Derbyshire-based Greenbank Group aims to expand its range of fabrication services following the installation of the new equipment that's capable of cutting through sheets of mild steel up to 25mm thick.
The company's Managing Director, Charles Conroy, explained: "This latest investment demonstrates Greenbank's ongoing commitment to developing an even wider range of services to our customers across a broad spectrum of sectors.
"Alongside our traditional core business – including the manufacture of chutes, pipework, lining systems and bulk material-handling systems – general fabrication services are becoming increasingly important to our future plans.
"Togther with our extensive engineering design experience, which enables us to develop bespoke solutions for clients, this investment will put us in an even stronger position as we explore new markets, both at home and overseas."
The 5,000W laser cutter boasts a range of features, including a metal sheet detection system, a cutting head with 5", 7.5" and 9" lenses, laser position diode and a PMS plasma monitoring system. 

"The equipment is already proving its worth, enabling us to work with a wider range of steels for fabrication whilst increasing efficiency within our manufacturing facility," Charles added.