Greenbank Introduce Aerotech - A Superior Vacuum Bonded Ceramic Wear Resistant System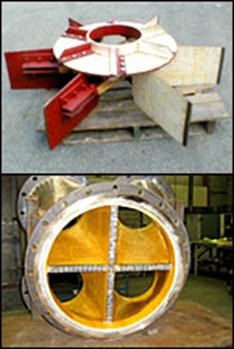 Greenbank Group UK is delighted to announce that we are strengthening our traditional abrasion-resistant lining business with a new process.
In January 2012, we are launching a new and exciting new lining system called the Greenbank Aerotech Vacuum Bonding System (AVBS).
This system will add diversity to our product range and give our customers a competitive and technically superior option.
AVBS is a unique bonding system which uses special vacuum compression techniques. This greatly improves the performance of the ceramics being used for lining.
By bonding the ceramics using special adhesives under a vacuum, at high temperature, it provides the strongest bond imaginable to a steel substrate. When finished it is virtually impossible to break the ceramic from its substrate.
The system, up until now, has only been available as an imported product. So, we have taken steps to invest in the technology and have installed the required production equipment at our factory in Woodville.
This system gives us the ability to offer our customers a better lining solution, whilst labelling it 'made in the UK.' Local production enables us to quickly and cost effectively service our customers' needs.
AVBS produces components with the wear resistance of ceramic and the impact resistance of steel. It has proven itself in applications such as high-speed dynamic fan blades in the dust extraction and cement industries.
AVBS also allows the ceramic-lined item to flex and bend without compromising the integrity of the bond.
When alumina ceramic lining is used, the weight of the equipment can be reduced as our exclusive process enables us to minimise the thickness of the steel, replacing it with the ceramic, which is 50% the density of steel.
The system will also open new doors to us in areas previously untapped by Greenbank.