Greenbank Innovation Commended by IMechE at the MX Awards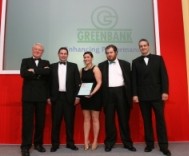 Greenbank were amongst the successful manufacturing businesses at the Institution of Mechanical Engineers prestigious MX Awards ceremony held at the Dorchester Hotel in London last night.
The Team from Greenbank picked up a 'Commendation for Product Innovation' which was sponsored by AutoDesk and presented by Lord Paddy Ashdown. The award was in recognition of Greenbanks range of Boiler Optimisation Products for Coal fired Boilers.
The Manufacturing Excellence Awards is the premier annual award scheme for the UK manufacturing industry. The Awards are designed to support and recognise manufacturing success in engineering.
Organised by the IMechE, the MX Awards attracts competition from progressive Manufacturing businesses throughout the UK.
Applications are put before an assessment board in which all sections are split up and sanitised so the assessors do not know who the businesses are. The assessment teams spend a day on each category and score the sections to see who has come out on top.
The top assessments in each category are then visited by a team of assessors. They spend a day at the business and use it to confirm a company's eligibility for an award.
The assessors are all senior engineers, industry figures and experienced business people.
After the visit only the successful Company's are invited to give a presentation at IMechE's Headquarters in London.
This presentation is the final stage of the judging process and the businesses, who are successful up to this stage, present in front of the MX judging panel which includes a questions and answers session. The presentation is in the prestigious lecture theatre at the Institution of Mechanical Engineers on Bird Cage Walk in Westminster, London.
The judging panel is composed of top names from the manufacturing industry and the results are kept secret until the announcement at the ceremony.
Charles Conroy, Greenbanks MD stated; "Greenbanks commendation was totally unexpected. It was our first experience at this event and we were very proud to be recognised not only amongst the big boys, but on a national basis for the innovative and engineering skills of the team back at base."
Charles Conroy, Dr Jake Roberts and Sally Hall represented the business at the event.