Greenbank helps architect scoop award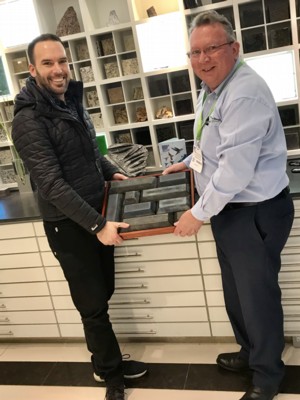 Congratulations to STAC Architecture for scooping the 'Retail Exterior Surface of the Year'Award at the Surface Design Show.
The firm's co-founder, Paul Thrush, said the achievement wouldn't have been possible without Greenbank's fantastic basalt product and its willingness to go the extra mile to help achieve the finish needed.
Paul is pictured here with Greenbank's Sales and Marketing Director, Ray Moorehead, showing off a sample of the basalt tiles used on the Twickenham restaurant that caught the eye of judges.