Greenbank Group Golf Day Raises £760 for Charity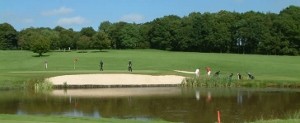 For the fourth consecutive year, the Greenbank Group have adopted the 'Bobby Moore Fund' as their nominated Charity for their annual Golf Day which was held last week on the 5th September at Morley Hayes Golf Club in Derbyshire.
Organised by Peter Cobham, the amount raised for charity by the participants was no less than £760.00 for Cancer Research!
Teams from Drax Power, Hargreaves and Hatfield Colliery took the top honours (respectively), competing against teams from Fiddlers Ferry, Ferrybridge and Ratcliffe Power Stations, Hope Construction, Cemex, Cleveland Potash, PJD Engineering, TEI and RWE."
A big thanks for all those who participated and in particular those who kindly contributed prizes and hard earned cash towards the charity prize raffle and auction.