Greenbank become Derby County FC secondary shirt sponsor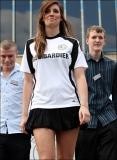 The Greenbank Group are linking up with Derby County Football Club for the 2008/09 season.
Woodville-based Greenbank Group will have their logo displayed on the back of the Rams' shirts this season.
It is a new venture for both parties and one that has been hailed as an important step for both Derby County Football Club and the Greenbank Group.
Tom Glick, President and CEO of Derby County, said: "Greenbank are world leaders in their field and a company that is developing products which help contribute towards a better environment.
"It is an honour for us to become partners with such an ambitious group, who like us, are also at the heart of the community in Derby and proud to be so, while endeavouring to have an impact on the world stage.
"We will be working closing together on many projects which will benefit Derby County, Greenbank and the community in an around Derby."
Although a global organisation with manufacturing and administration facilities in the UK, USA, Czech Republic, China and India, Greenbank is a Derbyshire company at heart and proud of its local roots.
Greenbank Managing Director Charles Conroy said: "This sponsorship is a huge boost to company morale as we have a lot of loyal Rams supporters within our organisation.
"We are delighted and proud that Derby County will be sporting the Greenbank name on their shirts next season.
"The business has been very successful over the last couple of years, receiving numerous accolades, and sees the sponsorship of the club both as a major step forward in both raising our profile and celebrating our heritage with Derbyshire pride!"
Pictured, walking closely behind 'Miss Student UK' Katie Archer, are our Thomas Dallison and Rob Roast at the new Derby County home shirt unveiling ceremony which was held in the Market Square, Derby on Monday, 30th June