Greenbank Awarded Cab Structure Contract for Rail Industy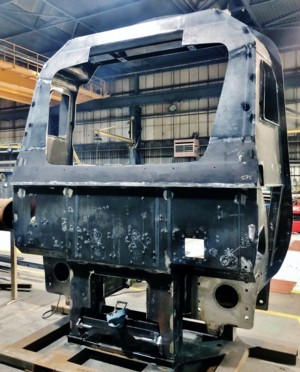 The Greenbank Group have been awarded a multi-million-pound contract to build critical components for a new fleet of trains which will create job opportunities at its Woodville manufacturing facilities.
The order had its first main cab structure assembly produced in record time – finishing the cab in under four weeks and weeks ahead of the original schedule.
Greenbank, who employ 65 people at its manufacturing facilities in Woodville, Derbyshire and Creswell, near Worksop, has signed a supplier partnership with Derby-based Datum Pattern & Model Makers Limited that will see them build 170 cab assemblies for trains destined for South Western Railway.
The new Aventra Class fleet is currently being built by Bombardier Transportation, Derby, and Greenbank Managing Director Charles Conroy says he is delighted the company is now involved with an industrial sector that has a rich heritage in the East Midlands.
"For many years the region has been at the heart of British railway engineering, and this contract demonstrates our ability to build on that connection," he explained.
"Over nearly decades, Greenbank has successfully delivered high-quality, bespoke engineering services to a broad cross-section of industries, particularly power generation, but has diversified significantly over the past few years."
During 2018, the company invested significantly in obtaining EN 15085 Manufacturers of Railway Vehicles and Components Certification Level 1, believing its engineering and fabrication expertise could help in meeting the stringent demands of the rail sector.
"The investment in this globally recognised standard is clearly paying off and, as well as securing highly skilled jobs in our workshops, we are now looking to start a recruitment campaign, to develop our business further," Charles said. "Over the coming months we will be looking to take on additional skilled fabricators, welders, goods inward coordinators and Responsible Welding Coordinators (RWC's).
Although the exact value of the main contract remains confidential, up to 3 Cabs per week are expected to roll off the Greenbank production line until the contract has has been fulfilled.
Under a separate contract Greenbank also manufactured all the sub-assembly and final assembly motorised jigs and fixtures involved in the production of these Cabs.