Greenbank Awarded 2012 Midlands Region Manufacturing Innovation Award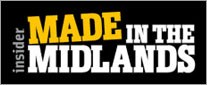 Insider Media's Made in the Midlands awards last night recognised some of the region's most innovative and successful companies.
Over six categories, the event sought to reward those businesses that have embraced sustainability, innovation and exporting, in front of 160 of their peers at the National Motorcycle Museum, Solihull.
Keynote speeches were delivered by Stourbridge MP Margot James and Aga Rangemaster chief executive William McGrath.
Justin Webb, the event host, said that the UK was "gradually waking up to a fact that the Midlands has never forgotten. That our national wealth is based on what we make, and what we sell. This is the sector, this is the region, where the long term prosperity of Britain is being forged."
MD Charles Conroy stated that "this honour not only bestows the hard work, dedication and development undertaken within the business over the last few years, it demonstrates that Greenbank is a progressive business for anyone to be involved with. Competition for quality engineers, operatives and staff in the Midlands is rife having a core of world renowned engineering companies based around here, all competing for the same talented people. By virtue of this recognition, people can be sure that this business is at the cutting edge in its field for wear protection, combustion technology and material handling products. It is also a great company to work for."