Drax Awards Greenbank the 2011 Gold Award for Contractor Safety Excellence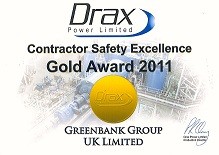 We are pleased to announce that the Greenbank Group UK Limited have been presented with the 2011 Gold Award for Contractor Safety Excellence by Drax Power Limited for work undertaken at their 4000MW generating plant near Selby.
This category was for contractors having up to 10,000 working man hours during the course of 2011 and it specifically relates to the Biomass conversion project where Greenbank designed, manufactured, supplied and installed the injection lines, diverting the Biomass Mills to their Unit 1 boiler.
It was a difficult and testing project that needed completing within strict timescales.
Operations Director John Wood stated: "Greenbank were supported on site by Morebrooke Contractors and thanks must go to them for the part they played in helping us to achieve this award. We are very proud to be recognised by Drax for this achievement and special thanks must also go to our Sam Else who ensured the project ran as smoothly and as safely as possible on site.
The award was presented during the 2012 Drax Safety Conference that was recently held at the Royal Armouries in Leeds.