Congratulations and well done to Steve Fletcher.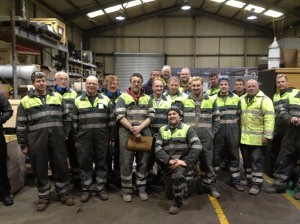 Today Steve recorded 30 years of dedicated and exemplary service for Greenbank and a surprise presentation was organised to celebrate this fantastic achievement.
The entire staff together with close colleagues of Steve gathered to show their appreciation for the long service and hard work that Steve has afforded the company over all these years.
Having seen the relocation of Greenbank to the Derby area in 1995, then Woodville in 2001, Steve still travels around 90 miles to work and then the same back home again, every day, together with his long time colleague Dave Firth.
The presentation, led by Operations Director John Wood, MD Charles Conroy and Production Director Dave Firth, thanked and congratulated Steve for 'unprecedented loyalty, commitment and dedication.'
Steve, commented that 'he didn't look old enough to have been here all this time,' and jesting aside, he is absolutely right!
Steve's work ethic, recognised over many years, is that only the best is good enough. This is an ideal, which he instils at Greenbank, that we are all proud to be part of. His standards are unprecedented, and he has always endeavoured to make sure that Greenbank produce and deliver the best, and woe betide anyone who disagrees or tries to prove otherwise!!
Steve, who manages our lining systems production department, has also been responsible for training many employees to exceptionally high standards over the years. Today, he was proud to say he has 'the best team around him in his time at Greenbank - ever.' That is some compliment from a man with such high standards and work ethic.
Everyone at Greenbank congratulates Steve and looks forward to working alongside him for many years to come.