Chute solution for UK power plant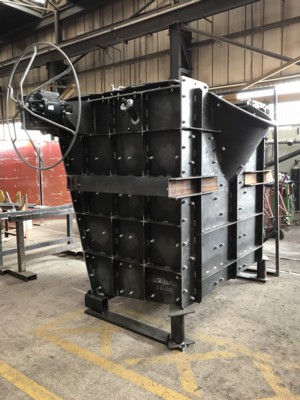 A large coal-fired power station in the East Midlands is set to benefit from the expertise of a Derbyshire-based specialist engineering firm.
The plant needed to increase the capability of its fuel conveyor system to handle a wider range of material, both wet and dry, and turned to Greenbank's Materials Handling Division for a solution.
After completing a feasibility and design study and obtaining client approvals, the company was contracted to manufacture new chute work at its manufacturing facility in Woodville, near Swadlincote.
John Williams, Greenbank Materials Handling Project Manager, explained: "The challenge has been to improve on the original design to enable the plant to handle finer, wetter fuels if they needed to.
"This bespoke design will enable the plant operators to achieve this while also improving the control of fuel flow through the plant."
The chute (pictured) has now been manufactured and trial assembled, and is awaiting painting before delivery and installation before the end of 2017.