Cement Factory Benefits From Greenbank Feeder Technology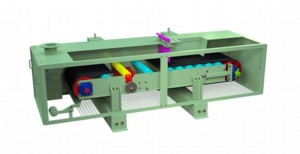 Specialist engineering company Greenbank has strengthened its long-standing relationship with Hanson Cement by supplying state-of-the-art feeder systems to the company's Padeswood facility in Flintshire.
For many years, the Derbyshire-based Greenbank Group has supplied the cement production plant with wear-resistant pipework and, more recently, a pipe system for a new shredded refuse fuel line into a processing kiln.
The site, which has undergone a significant expansion programme, has now seen the installation of a Greenbank GWF feeder system, which is designed to feed raw materials into the processing plant at a predetermined rate.
Rod Molyneux, Product Sales Engineerat Greenbank explained: "Weigh feeders are used in many industries for conveying a variety of products including sand, gravel, coal and biomass, recycled media and also food products, as well as cement, and our GWF models have a proven track record for reliability and performance.
"The constant and reliable feed rate of the GWF feeder is achieved by having a shear gate to set a constant material bed depth for the given particle size combined with an inverter drive to control the feeder belt speed.
"The feeder is designed to last the life of the plant, being robust enough to withstand high operational demand, running 24/7 when required, with oversized heavy-gauge component materials providing increased strength.
"Meanwhile the feeder requires very little downtime for maintenance as the idler rollers are sealed for life and do not require lubrication, whilst a cantilever construction allows ease of access to the internals and for straightforward belt replacement."
The installation of the new equipment at the Padeswood plant was part of a wider investment by Hanson in the facility, which has seen production lines re-instated after being mothballed for a number of years.
Charles Conroy, Greenbank Managing Director, added: "We are delighted at this latest contract which demonstrates our ability to produce market-leading, cost-effective feeder weigher systems for a wide range of applications across many different industries."