Amazing Night at the Awards for Greenbank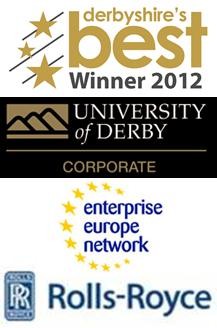 The Greenbank Group celebrated being chosen as finalists in 5 out of 9 separate categories for Derbyshire's Best Business Awards 2012 on Friday night and walked out as proud winners in 3 categories.
The categories being:
- Commitment to People Development (sponsored by University of Derby Corporate)
- Achievement in International Business (sponsored by Enterprise Europe Network) and,
- Excellence in Innovation (Sponsored by Rolls Royce)
Greenbank were also runners up for the Environmental Award and Business of the Year!
The event organised by Derbyshire and Nottinghamshire Chamber of Commerce honours the achievements of the county's best business, start-up and entrepreneur, there are categories for firms that have innovated, invested in staff development, considered their impact on the environment or excelled at exporting, customer care or marketing.
Finance Director and head of HR Martin Killbery said:
"The Greenbank Group is delighted to have won the Commitment to People Development award. The company's commitment to developing people is at the very heart of its business plan. Everyone within the organisation from the Directors to the shop floor, understands the importance of training, good communication and sharing knowledge so that we are able to compete within our sector and drive continuous improvement.
"We are very proud of our employees and their development within the business. This fantastic award pays homage and acknowledges the hard work, effort and commitment made by everyone who works for Greenbank"
Managing Director Charles Conroy said:
"Being a company driven by innovation, we are thrilled at being chosen as winners for this year's Excellence in Innovation award and I am very proud to collect the award on behalf of our technical staff.
"Failure of steam tubes has been a familiar phenomenon in large electricity generating plants resulting in unscheduled shutdowns causing owners heavy revenue losses and potential disruption of electricity supplies.
"Our system uses high level acoustic analysis to provide the operator with an early warning predicting failure. With our recently developed software, we can now closely pinpoint the position of a potential failure amongst kilometres of steam-tube and advise the plant operator via his desktop PC. As a result, maintenance can be planned in advance. The system also provides a safer environment by eliminating exposure to failure by plant personnel.
"This accolade substantially rewards our business and those within it and encourages us to continue the pursuit for innovation and diversity."
Charles went on to say:
"We are also overwhelmed to have been presented with the award for Achievement in International Business. Becoming finalists helped celebrate our recent successes exporting home-grown technologies to far reaching corners of the world. Winning this award commends the time, dedication and personal effort invested by individuals within the business who have gone the extra mile to design, promote, supply and install our products overseas. I take this opportunity to publicly thank those people.
"Recent achievements include the export of our carbon-in-ash analysers, particle size analysers, pulverised fuel balancing systems and our latest Acoustic Boiler Steam Leak Detection system to places as far apart as China, Germany, the Netherlands, Chile and the USA. These reference sites now deliver the recognition we need to spearhead our international marketing activities in specific and focused territories. All these products state one thing in common and that is: 'made in Derbyshire, England.'"