Airbus 380 lands at Greenbank!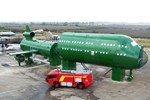 Well not really... but we have just manufactured a full size mock up of the cockpit and front fusilage to enable our customer to use it as a trainer for Airport fire crews.This is an example of the size and scope of our fabrication capability. Also at the same time as this project was being executed we were manufacturing 1" nb ceramic bends for the steel industry!!
The picture shows a section of the plane being hoisted into it's final position at site.
Send your fabrication enquiries via our website contact page or direct to our Commercial Manager Sandy Knowles on s.knowles@greenbankgroup.com