A Racey Day at Fradley Park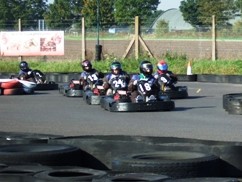 In a hotly fought contest on a sunny Staffordshire afternoon, no less than 25 young "Button's" took to the track in a race-off at the Fradley based Midlands Karting Experience.
The impressive venue at Fradley is one of the top karting circuits in the UK with top class equipment having some of the fastest purpose built race karts and challenging tracks.
Each driver competed in five heats and the top 16 went forward into the semi-finals. The top four elite drivers were then pitted against each other in the 'Super-Prix' final.
The first, second and third places went to Roger Bridge, Ricky Moppett and Mark Bridge.
Our thanks goes to Mark Bridge who organised a most enjoyable day and well done to all who competed. We are also grateful to the spectators who came along to offer their support and share in the fun.
The day was brought to a fitting conclusion with a buffet lunch and an ice cold drink at the Swan pub which was a hairpin bend away from the chequered flag!