60th Anniversary Story, Part 2: Diamonds are Forever!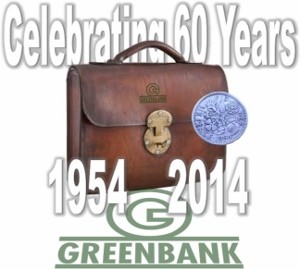 In 2001 Greenbank's UK business moved to the company's current base at Woodville in Derbyshire.
2002, Greenbank UK formed a new JV company called GAIM Ltd (Greenbank Advanced Instrumentation & Measurement)with Dr Aroussi and the University of Nottingham. The objective was to develop technologies for Greenbank, such the systems division and GESi could market the new products into the power industry.
These products would measure, improve and enhance the performance of our fossil-fired generating plants and set up the potential for exporting new products.
Greenbank soon acquired the University's shareholding, providing the independence to work with Nottingham and other Universities on a variety of research and development projects.
2008 Greenbank Terotech acquired H&H (continuous weighing) Services Ltd. This acquisition added products into GMH's business an opportunity soon arose to apply these products into the Systems Division's power market, by developing state-of-the-art pressurised gravimetric feeder called the GravMaster.
2009, Greenbank acquired its Pipe Conveyor product, having exclusive license for a special conveyor belt from Bridgestone in Japan.
September 2012 the company's UK Directors acquired the Greenbank Group UK and all of its trading businesses from its US partners, returning the business to its British roots.
Greenbank's core business has been in the manufacture & fabrication of heavy industrial pipework, ductwork, valves and fittings allied with the application of abrasion and corrosion-resistant linings.
Today, Greenbank has successfully applied its experience and technical expertise to add a new family of award winning products centred on monitoring and improving combustion efficiencies in coal and biomass fired electricity-generating.
The Group now comprises of its core production and manufacturing facility being Greenbank Terotech's HI Division, Greenbank Terotech's Systems Division, GAIM Ltd, Greenbank Materials Handling Ltd and Greenbank (Beijing) Trading Company, a wholly owned foreign enterprise which was set up in 2013 and aims to expand Greenbank's interest in the Chinese market.
In addition to some new combustion enhancement products, GAIM is working on a state of the art technology project that will deliver an advanced detection system which will give real time information on the air quality in the airspace an aircraft will pass.
Charles Conroy Greenbank Greenbank's current MD said, "Analysing the skies for volcanic ash is a long way from lining hydropulpers, bunkers, chutes and hoppers with volcanic ash, which of course we still do" adding,
"This is an enormous milestone and, on this wonderful occasion, it is one where which I am privileged and honoured to find myself at the helm. Over the years, the business has gone through numerous changes of ownership and relocations. It has diversified and morphed in many different areas, none more than recently.
"Sustaining the business, keeping at the leading edge against ever-waining competition and the inevitable 'Me Too Ltd's', emphasises the fundamentals strength and culture that is embedded in our business. A culture based on training its staff to an unrivalled level of expertise.
"It is wholly apparent that the heritage and history instilled upon us is still around us, it is wholly apparent and intact. Long may that continue."
"I am proud to say our Operations Director John Wood and myself served our apprenticeships with Greenbank and we are beholden to the old school team of John Taylor (Engineering), Jack Adamson (Site/Sales), Vincent Cronshaw (Production) and last but not least Tom Ellis (MD/CEO) who, in Lancashire terms, must have thought 'we-wer o'reyt!'
Gentlemen, I hope you are proud of the Greenbank we have become as I am of you and the culture you instilled within us.' Thank you.