60th Anniversary Story, Part 1: The Brief Case and a Sixpence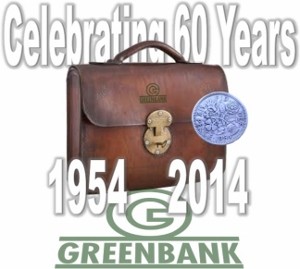 Over the past six decades, the Greenbank Group has grown into a global leader in the development and delivery of products and services for industries such as power generation and bulk-handling whilst its extensive research and development arm is now aiding the aviation industry.
Such diversity is a far cry from the company's early days, when it was founded in Lancashire by two entrepreneurs, Jack Whittaker and Harry Loveday, who started the business with a briefcase and a sixpence.
Initially the business had no products of its own and sold only engineering design services. But by 1958 they were producing industrial dryers and ancillary equipment for the paper and pulp industry and they had acquired the old 'Greenbank Works' in Blackburn.
The firm soon diversified again and by 1960 had obtained a licence to import cast basalt from behind the 'Iron Curtain' after signing a deal with Czechoslovak Ceramics and by 1965 the cast basalt area of the business began to evolve.
The company went public in 1971 and soon Greenbank 'Cast-Basalt' Engineering Company was born. Subsidiary companies were developed in the USA, South Africa, Australia and India. It's products reached all corners of the world from the manufacturing bases in Burnley and Batley. In 1970 CBP Engineering Corp was established in Chicago to cover the American market.
The 'Heavy Industrial Division' was formed in 1981, with the two main areas based at Blackburn. These were Greenbank Terotech Limited (now incorporating F Haworth, ARC and the Anti-Degradation Company) and Greenbank Darwen Limited.
In 1986 Greenbank Industrial Holdings merged with a midlands-based company and formed 'Walker-Greenbank PLC'.
1988, the Blackburn-based Terotech business moved and consolidated its administration to the Burley site. Its production facilities were rationalized, investing in and extending the Burnley factory, and relocating the Yorkshire-based Batley, Ramsbottom and Kirkburton works to the newly extended site in Lancashire.
1990 Walker-Greenbank PLC sold off its engineering assets and a management team led by Tom Ellis formed 'Greenbank Industries Limited' and acquired the Terotech business.
Prospect Industries Limited acquired Greenbank Industries Limited in 1992 after first acquiring Dunn International and C.O.G.S.
In January 1994 they acquired Aiton & Co and in 1995 relocated all the Prospect Group businesses to Aiton's 16 acre site in Derby. Prospect Engineering Limited (PEL) was formed. In the same year CBP moved from Chicago Illinois to Washington PA.
PEL grew rapidly and in November 1997 its assets were acquired by US based Shaw Group.
The Terotech business again became autonomous and In July 1998, the current management team performed another management buyout together with its sister company now based in Washington, PA, USA.
September 1998, Greenbank Terotech acquired PAC Engineering Linings Ltd. PAC was owned and directed by Peter Cobham a former long term employee of Greenbank.
In September 1999 Greenbank Terotech established its 'Systems Division,' a team dedicated to diversifying the business away from it roots as the core business has begun to fade under strong international competition and shrinking home markets.
November 1999 Greenbank Terotech acquired the assets of Benchmark Solutions Ltd. BSL, formerly known as Quarry Services Limited, designed, built and installed turnkey conveyor systems as well as provided a refurbishing and maintenance service to the bulk handling industry. The objective was to increase fabrication work for the factory at Stores Road. In 2000 BSL was renamed Greenbank Materials Handling Ltd. 'GMH' became dedicated to delivering products to the bulk and materials handling industry.
January 2000 CBP formed a new subsidiary called Greenbank Energy Solution Inc (GESi). GESi was formed to take the UK's new boiler enhancement technologies into the American market.