£3.5 million worth of contracts in biomass conversion market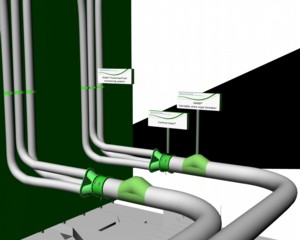 The Greenbank Group has strengthened its position as a leading supplier to the UK power generation industry as it switches from coal to more sustainable fuels with the completion of three major contracts, together worth in excess of £3.5 million.
The Derbyshire-based company has been heavily involved in a project to convert a North-East power station to run on biomass, including the design and supply of pulverised fuel feed, distribution and flow-balancing piping systems.
This incorporated Greenbank's highly successful VARB© technology to diffuse the pulverised fuel in front of splits in the piping and the design and supply of the company's Zalcon® zirconia-alumina-lined pipework to the three boiler units being converted to biomass.
As part of a separate contract, Greenbank's abrasion-resistant Zalcon® piping has also been installed in a pneumatic conveying system that transports the wood pellets to the mills inside the boiler house.
The company is supplying fabricated chute work lined with Greenbank's own AD1 epoxy-based wear compound lining to the port handling the biofuel pellets destined for the power plant. This contract included utilising Greenbank's Discrete Elementary Modelling services (DEM) in the design of chute work for optimum free flow and minimum wear.
Ray Moorehead, Greenbank's Sales and Marketing Director, said the three contracts from different clients on the same major project demonstrates the company's ability to supply a wide range of products to a number of clients involved in biomass conversions.
"Greenbank is recognised internationally as well as in the UK as a leader in the field of controlling, monitoring and distributing pulverised fuel – be it coal or biomass – as it flows from boiler mills to burners.
"Whether this involves milling systems designed with splits in the piping network feeding many burners, or multi outlet milling to feed to single burners, our depth of knowledge and diverse engineering skills when it comes to delivering balanced and optimal feed of fuel to the boilers burners differentiate us from our competition.
"Thanks to the use of the data our engineers apply when using CFD (Computational Fluid Dynamics) processing or DEM modelling to design our systems, clients can see in advance the benefits that our systems will bring, in terms of efficiency, maintenance and reliability.
"This is supported by real-time simulation of the systems on our 'scaled to size' test rig, based at our Woodville Head office, which gives clients additional confidence in the system before it is manufactured and installed."