Volcanic Ash Detection System Secures National Accolade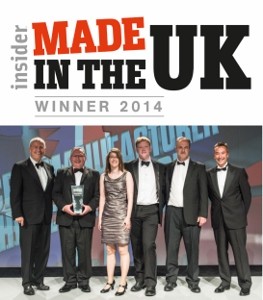 A project with the potential to save the aviation industry millions of euros has earned a UK company a prestigious national manufacturing award.
Led by the Greenbank Group, Project AIDA (Ash Ingestion Detection Apparatus) - which incorporates the latest sensing technology to detect volcanic ash in aircraft engines - topped the Advanced Manufacturing and Technology category at the inaugural Made in the UK Awards.
The project, which is funded by the European Union and involves a number of other firms from across the continent, had already been recognised in the regional Made in the Midlands Awards.
A prototype system is currently in development and when fully operational it will alert aircraft operators to the presence of volcanic ash, enabling them to adjust maintenance schedules more effectively.
Dr Neetin Lad, Research and Development Contract Manager at Greenbank, explained: "The system filters out particulates as they enter an aircraft engine in flight and identifies the build-up of unwanted volcanic ash particles.
"Ash is particularly damaging to an aircraft due to the shape of the particles, which can be very abrasive. It can also damage turbine blades by melting and solidifying on the blade surface."
Greenbank took the bold step of developing ash detection equipment for aircraft after identifying a wider range of uses for particle detection technology, which was initially developed for the power generation industry.
At its headquarters in Woodville, Derbyshire, the company invests heavily in research and development alongside its other operations, including the supply and manufacture of wear-resistant lining systems, electricity-generating combustion monitoring equipment and continuous weighing products for materials and bulk-handling systems.
Charles Conroy, Greenbank Managing Director, added: "We are delighted to receive this latest national award that reflects our ongoing commitment to investment in research and development.
"This achievement also demonstrates our ability to work with a diverse range of partners to deliver a solution to a problem that has already cost the aviation industry millions of euros in the wake of previous volcanic eruptions."
The judges said: "What really impressed us was the way this business had used technology not just to improve its position, but to move into an entirely new sector. After 60 years working in the same sector, Greenbank took the bold step of developing ash detection equipment for aircraft."
In clinching the award Greenbank Group beat off stiff competition from Route Monkey, Elekta, Glossop Cartons, MöllerTech, Aero Stanrew and Krohne UK.
The Made in the UK Awards celebrates the best products and services made in the UK with 10 regions competing for nine awards.