The ideal lining for demanding applications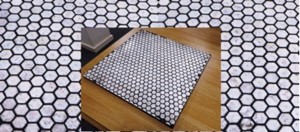 For applications where sliding abrasion and impact protection, or noise suppression, are of paramount importance Greenbank's CeraMat offers the ideal solution.
The long lasting, quality grade rubber backed ceramic tiled mat can be used for protecting chutes, hoppers and bunkers; extending operational life of plant that handles raw materials in bulk transfer situations.
The development of CeraMat is the result of Greenbank's extensive experience working with heavy industries - including power generation, mineral handling, steel production and cement – combined with Greenbank Terotech Limited's extensive knowledge and expertise in utilising wear resistant lining systems.
A combination of alumina ceramic tiles embedded into vulcanised rubber, the mats are easy to install and can be bonded to substrates or fitted onto prefabricated steel plates before being mechanically foxed into position.
Off the shelf standard sizes of the plain mat are 500mm x 500mm x 15mm including 10mm alumina ceramic tiles embedded into the rubber and available ex works delivery. At Greenbank's manufacturing facility in Derbyshire, the CeraMat mats can also be cut to suit meet the bespoke requirements of customers, prior to delivery to site.
Further information about these innovative products, including details on how to arrange a site survey, are available by calling 0845 0707 097 or emailing info@greenbankgroup.com.