Regional Business Awards for Greenbank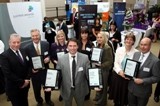 Greenbank Group UK won two regional business awards presented, on behalf of the British Chamber of Commerce, by Steve Charles of the Derbyshire and Nottinghamshire Chamber at their 'Meet the Buyer' conference in Derby.
Greenbank scooped both the 'Innovation through Technology' award and the most prestigious 'Business of the Year' award.
The awards were for the entire East Midlands region and as a result Greenbank will represent the East Midlands in both categories at the National Finals in November.
The finals take place on Thursday 27th of November at the Natural History Museum in London. The event is a Gala Dinner and it is expected to be a spectacular affair.
More details are availiable via the following web site: www.chamberawards.co.uk/2008/gala_dinner.asp