Play on Pitch day in aid of Bobby Moore Fund Charity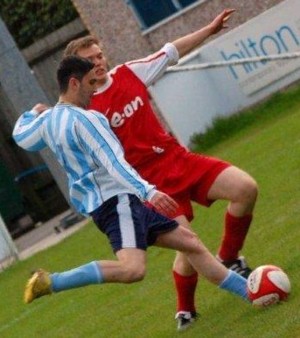 This year Mickleover Sports Football Club played host to the Annual Greenbank 'Play on the Pitch Day' charity football tournament on Friday 11th May 2012.
The competition saw Greenbank and the Ex Rams teams take to the field along with customers such as Alstom, Cleveland Potash, Doosan, Drax Power, Lafarge, Ratcliffe and Rugeley Power Stations,
Ten competing teams put on some skilled and energetic performances, with more than a hint of healthy competition at times!
After coming runners up in the group stages, the team from Drax Power ran out eventual tournament winners beating the Ex-Rams in the final after a nail-biting penalty shootout.
In the semi-finals, Drax fought off tough competition from Cleveland Potash to gain their place in the final whilst the Ex Rams once again came head to head with last year's tournament winners Ratcliffe Power Station.
After the tournament the former Jamaican International, Notts County, Birmingham and Derby County Defender Michael Johnson entertained the teams with his 'footballing' tails and memoirs when he took to the stage as guest speaker at the post match awards dinner held at Derbyshire County Cricket Club.
A raffle held during the evening, in aid of The Bobby Moore Fund, raised £900.00 for the cause. The fund was set up by Stephanie Moore, the widow of legendary footballer Bobby Moore who sadly died from bowel cancer aged 51.
Greenbank holds this charity close to its heart and hopes the money raised during the evening will help toward aiding research into bowel cancer.
We also hope this event will help increase public awareness and we thank our Peter Cobham for describing the precautions we all should take to identify early signs of the disease.
We also pass our sincere thanks to all those who donated to this cause by way of cash, prizes or both.
Our thanks also go to all involved in organising the event including those at Mickleover Sports FC and Derbyshire County Cricket Club.