Growing engineering group seeks new recruits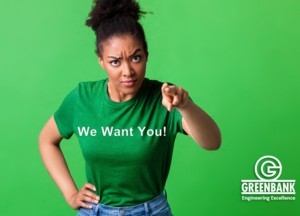 A Midlands-based engineering group is embarking on a major recruitment campaign as it continues to explore new markets while consolidating its position as a key supplier within a broad range of industrial sectors.
Building on its reputation for engineering excellence, the Greenbank Group has grown significantly in recent years, thanks to diversification and strategic acquisitions. Now it is looking to boost its workforce in line with continued expansion.
In addition to skilled welders and pipefitters, Greenbank company Franklyn Yates Engineering Limited is looking for a contracts manager and a site supervisor with a mechanical background as it delivers a host of products and services to the clean and waste-water sectors.
Elsewhere in the Group, there are also vacancies for an estimator, project manager and draughtsperson as Greenbank Terotech and Greenbank Engineering Services continue their expansion into the rail sector alongside their traditional work within the power generation, aggregates and manufacturing industries.
Charles Conroy, Greenbank Managing Director, explained: "In recent years the Group has enjoyed significant growth, particularly with new business in the water, food and petrochemical sectors, and expansion into a new manufacturing facility in Derby that's long been associated with the rail sector.
"As we look to the future, we are now in a position to offer more opportunities for individuals who share our passion for engineering excellence and providing a first-class, bespoke service to our diverse customer base."
"A host of employee benefits, together with attractive salaries, await successful candidates, and we are keen to hear from anyone with relevant qualifications or experience who feels up to the challenge."
The positions available are based at the Group's offices and manufacturing facilities in Derbyshire and may require travel to sites across the UK. Further information, including full job descriptions and details on how to apply, is available by contacting Greenbank's Group HR Manager, Jackie Caspersz (j.caspersz@greenbankgroup.com).