Greenbank Targets Tube Conveyor Market with New Appointment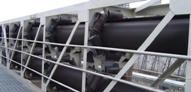 The Greenbank Group is pleased to announce the appointment of Paul Holt as Product Manager in their Materials Handling division (GMH), based in Woodville, Derbyshire.
Paul will lead Greenbank's focus on providing Pipe Conveyor product solutions, expanding a portfolio which currently includes feeders, crushers and dust suppression as well as an extensive range of bulk material handling systems, including Biomass, refurbishment, and full site management.
Greenbank Group Managing Director, Charles Conroy commented:
"We are delighted to welcome Paul to Greenbank. The experience and knowledge he brings will help us further enhance our Materials Handling division's product portfolio which already provides our customers with a broad range of highly efficient and cost effective bulk handling solutions."
Paul said, "The Greenbank Group are world leaders in their field and I'm delighted to be joining the company at such an exciting time, I very much look forward to the challenges ahead."
Paul has over 20 years experience in the design, manufacture and installation of Pipe Conveyor systems, and has successfully managed major projects in the UK, Chile, Czech Republic, Slovak Republic, Hungary Austria and Poland across a wide variety of bulk materials handling industries.