Greenbank Proud to Announce Made-in-Midlands 2014 Technology Award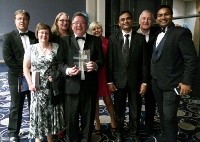 We are delighted to announce that on Wednesday of this week The Greenbank Group received another accolade and award for our business at the prestigious Insider 'Made in the Midlands' 2014 awards ceremony held at Edgbaston Cricket Ground.
Against some high quality competition the Advanced Manufacturing and Technology Award was awarded in recognizing the great work by our team from GAIM led by Neetin Lad, on developing the AIDA [ash ingestion detection analyser] for aircraft engines.
The system filters out the particulate as it enters an aircraft engine in flight and identifies the buildup of unwanted volcanic ash particles. The technology delivers advanced warning of the amount of ash buildup in 'real time' enabling safe and planned repairs to be programmed in by the airlines engineering and maintenance crews.
The judges said 'What really impressed us was the way this business had used technology not just to improve its position, but to move into an entirely new sector. After 60 years working in the same sector, Greenbank took the bold step of developing ash detection equipment for aircraft'
The award was sponsored by Leap – with Pera Technology and the others shortlisted were : Mercato Solutions, Penso Consulting, Arford Steel Profiles, RDM Group.
As regional winners we will now go forward to the inaugural National awards ceremony in July held in Liverpool. Watch this space……..
Pictured here Ray and Dale Moorehead, Martin and Gilly Killbery, John and Wendy Wood with two guests from Indian Company Maitri, Daxesh and Amal Shah