Greenbank on track with rail sector plans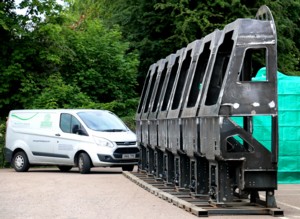 Specialist engineering firm, the Greenbank Group, is on track with plans to diversify after joining a high-profile organisation representing the rail sector.
Established in 1993, the Rail Forum Midlands (RFM) represents over 200 rail supply businesses from across the UK, and Greenbank Managing Director, Charles Conroy, believes it may play an important role in the firm's future success.
"Greenbank has taken its first steps into the rail sector with a major contract to build cab assembles at our Derbyshire manufacturing facility, and membership of RFM will help us build on this success," Mr Conroy explained.
"The well-respected organisation is dedicated to helping its members to grow and thrive, and we're sure it will enable us to build closer partnerships with other rail suppliers while enabling Greenbank to showcase the unique skills and capabilities it can bring to the sector."
For over 60 years, Greenbank has successfully delivered high-quality, bespoke engineering services to a broad cross-section of industries, particularly power generation and bulk materials handling.
As its traditional markets have evolved, diversification has become increasingly important for the firm, which has also made significant investment in research and development and its manufacturing capabilities.
"By joining the RFM, we aim to build on the relationships we've already forged with established suppliers and manufacturers across the country and in a region that has a proud railway heritage," Mr Conroy said.
"We've already been impressed by the organisation's proactive approach to supporting its members by providing a host of networking opportunities and access to market intelligence."
Elaine Clark, CEO at the RFM added "I am delighted to welcome Greenbank as a new silver member and look forward to getting to know the team and providing support and opportunities to connect with other members and industry specialists."