Greenbank golf boost for local charity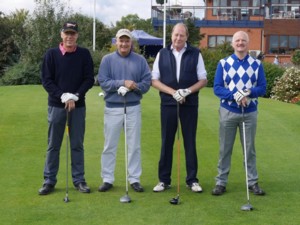 A charity that helps create special memories for people with life-threatening conditions and their families has received a boost from golfers taking part in a tournament organised by a local engineering firm.
Teams from across the power generation rail, steel and cement industries took part in the Greenbank Group's annual competition at Morley Hayes Golf Club and together raised nearly £2,000 for Me and Dee.
Now in it's eighth year the tournament was won by a team from Hargreaves Ratcliffe and, following a hard fought contest out on the greens, the twelve teams taking part enjoyed a celebration dinner.
The evening featured a talk by golf pro James Whately, included video footage of the day's play and tips and advice on some of the players swings.
An auction and raffle, along with sponsorship, helped to raise a grand total of £1907 for the charity founded by tireless campaigner Maria Hanson MBE.
The Derby-based charity provides respite holidays and breaks to families who are dealing with life-limiting conditions or former military heroes recovering from the traumas of injury after serving our country
Ray Moorehead, Greenbank Sales Director commented: "We've had another fantastic turnout from our valued customers and together we've enjoyed another fabulous day of golf with a few chuckles and laughs along the way.
"We're especially proud to be able to once again help Maria and her charity through the generous donations from everyone who took part."
Caption:
Former Greenbank Sales Director, Peter Cobham, with a team from Breedon Hope Cement during the Golf Day at Morley Hayes.