Greenbank Exhibit Volceram Tiles at Top London Expo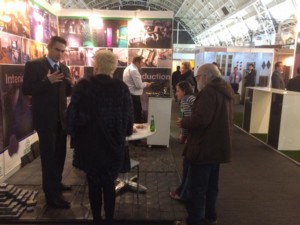 This week Greenbank promotes the latest range of Volceram tiles at the Surface Design Show, taking place between February 9th and 11th at London's Business Design Centre in Islington.
It is the UK's only event that focuses solely on interior and exterior surfaces and the 2016 show is expected to be the largest of its kind.
The stand will show case both industrial and decorative tiles created from one-million-year-old neo-volcanic rock. These Volceram basalt tiles offer a versatile solution for areas where a hard-wearing, easy clean flooring is essential.
Volceram tiles have already proved their worth in breweries and distilleries and are proving popular for industrial environments such as farming and food production thanks to the unique properties of basalt rock from which they are manufactured.
Today they beautifully adorn Metro tube stations in Paris and MacDonald's restaurants in the heart of Prague.
Volceram tiles are proving popular in the most upmarket of continental bars and boutique restaurants thanks to their remarkable individuality and unique properties.
Decorative, hard-wearing and easy to clean, these beautifully textured tiles have also proved the ideal material for many other commercial spaces with heavy footfall, including shops, pubs, restaurants, office reception areas, micro-breweries, football stadia and public buildings.
Four times harder than stone, and ideal too for innumerable domestic applications – kitchens, patio, halls, and lounges – the beauty of basalt is the beauty lasts forever!
A million years in the making, Volceram Basalt Flooring is as durable as the Earth itself, molten cast to achieve a uniform, crystalline structure to suit a vast variety of uses.
One of the toughest natural ceramic materials known to man, they offer unrivalled abrasion and chemical resistance. With non-porous surfaces that are hygienic and easy to clean, Volceram tiles deliver a dramatic flooring solution for those seeking to partner practicality with a sleek new look.
Brochures are downloadable from: www.greenbankgroup.com/downloads.htm